A Home Away From Home For
Outdoor Adventures
Outdoor Advenstures
Adventure The BWCA with Wilderness Canoe Trips
Nor'Wester Lodge Canoe Outfitters provides outfitting services from our base on Poplar Lake for wilderness canoe trips into the Boundary Waters Canoe Area Wilderness and Quetico Provincial Park. Many canoe country routes start and end at our easy access central location on the Gunflint Trail.
Choose the Best Gear
We carry ultra-light Grumman, Alumacraft, and Souris River Kevlar canoes. Top-of-the-line gear, the best ultra-lite food, and our personalized routing provides peace of mind and an enjoyable canoeing experience. We offer customers quality lightweight equipment and good food at reasonable costs for their trip into canoe country. Nearly everyone can enjoy a BWCA wilderness canoe trip, regardless of their canoeing experience.
Experience You Can Trust
We have a lifetime of knowledge and experience to share with you about the canoe country. Carl Brandt, the owner of Nor'Wester, was born and raised on Poplar Lake and grew up canoeing and fishing the many lakes of the area. With 50 years of service to vacationers on the Gunflint Trail, we have developed a reputation for quality.
This business operated on behalf of the Boundary Waters Canoe Area Wilderness program located within the Superior National Forest. As a BWCAW program cooperator, this business is an equal opportunity service provider.
Legendary Location
The Boundary Waters Canoe Area (BWCA) is a federally designated Wilderness area over 1 million acres in size located on the Superior National Forest in Minnesota and bordering Quetico Provincial Park in Canada. As the BWCA is a part of the U. S. National Wilderness Preservation System, there are several rules and regulations you need to be aware of to help preserve this unique place. Please visit the Superior National Forest Website for more information on the BWCAW or visit Recreation GOV for permit information and BWCAW rules and regulations.
Nor'Wester Outfitters is located  at Nor'Wester Lodge on Poplar Lake, 30 miles up the Gunflint Trail from Grand Marais, Minnesota. Take the scenic North Shore Drive of Lake Superior from Duluth to Grand Marais, then head up the Gunflint Trail into the heart of the Superior National Forest.
Choose The Accommodation That Best Fits Your Needs
We truly have someplace for everyone. NorWester Lodge offers our luxury townhouses which will sleep large groups. Our cottages provide a more intimate private accommodation close to nature. Our RV and tent sites are a more affordable for the more do it your self options. Then, for those truly rugged, our bunk house just gives you a clean bed for the night. You might meet some of the most interesting people at NorWester Lodge, friendships that can last a lifetime.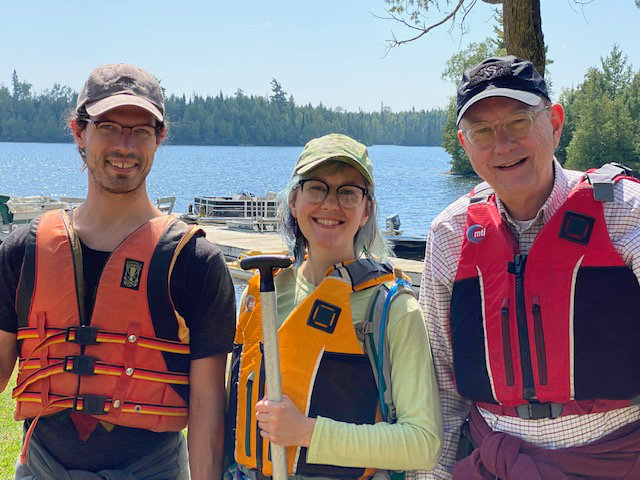 We have been visiting The Nor'Wester off and on (lately mostly on) since 1988, when our daughter was 4. We have loved every cabin we've been in but Towering Pines is our favorite. We love the lake with the many islands to navigate around, lunches at Picnic Island, canoeing with the option of portaging, sunsets on the water, hiking, the friendly and so helpful staff who will go the extra mile, the views, the serenity, the lack of phone service which really helps us unwind, the hope of seeing moose, the loons, campfires, and even the rainy days when we stay in and read and play games. We begin anticipating our next vacation while we are driving home!
Marge and John Maynard, Rockford IL
The Nor'Wester holds so many great memories for me. My parents started bringing me there for our family vacation every summer when I was just 10 years old and I feel fortunate to say I have only missed a few visits over the past 40 years. It is a place that now holds special memories for my own 3 children. Our stay is much anticipated every summer as it has become an annual gathering place for many of our extended family as well. The Nor'Wester is a family friendly resort with something for everyone to do. Our favorites every year include swimming at the sandy beach, fishing, hiking, canoeing, eagle watching and blueberry picking. If we are ever uncertain of where to fish or blueberry pick, Carl and Luana usually have suggestions! We enjoy our evenings taking in the breathtaking views of Poplar Lake from the lakeside cabins and campsites while reflecting on our day around the campfire. Every visit to this one-of-a-kind destination leaves us looking forward to the next.
Augusta Maruska, Lengby, MN
Fiber Optic WiFi
Our super fast WiFi service is available. It's only within range from the Lodge.
Free Parking
All of our cottages and townhouses come with parking and guest parking is available.
Bedroom Comforts
We offer quality
mattresses
and extra linen is available with every rental.
Coffee Maker
Each cottage and townhouses comes with
fully
equipped kitchen including coffee maker.
Long Main Dock
You can park your boat or you can rent one of ours. We have pontoon available.
Swimming
We have the only sandy beach on Poplar Lake. There is also swim raft short distance from main dock.
Have a Question?
Talk to Luana
Information
Location & Nearby Attractions
Checkin & Checkout
Check-in: 3:00 p.m. (call if later than 8:00 p.m.)
Check-out: 10:00 a.m.
Cancellation Policy
If you cancel prior to 60 days before your reservations. We provide full refunds.
If your cancellation is within 60 days of the visit. There is a $50 cancellation fee, but only if we are able fill the rental. If we are unable to fill the rental, we do not refund the cost. Alternatively however, you can reschedule the stay within one year. Our policy is pretty stringent, because of our small size and remoteness. Cancellations significantly affect our ability to stay in business.
No other refunds are possible.
To avoid any misunderstanding, here is the simple version:  You will be charged for the days you reserve, so please check your dates carefully and come have a great time. We love having you.